Overview
Edit
The pickaxe is necessary for making progress in the game. In real life, it's used to manually break apart rock exposing pieces of ore inside. In the game, stone and ore are separate and you mine each block individually. Your starting pickaxe is the Stone Pickaxe which has 2.5 Power, 5 Range and 0.2 Delay. You can craft better picks with the ores you obtain in the mine at the Forge.
This is what Power, Range and Delay effect: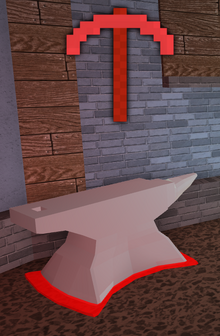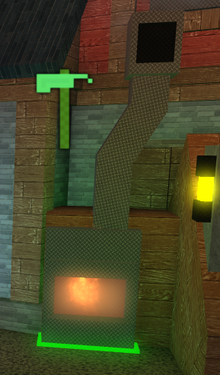 Power - The base amount of damage your pick does after the delay is over. Multiplied at every level up. Note: Pickaxe Power should actually be shown as 10* the value.
Delay - The amount of time in seconds before you start damaging ore. Meant to be a totally new, unique variable for the game. In exchange for high Power, you have high Delay which will slow you down when mining through Stone, the medium in the mine.
Range -  How far away you're able to mine from your position. 1 Range is 1 Block, 1 Block is 6 studs.
Media in category "Category:Pickaxes"
Ad blocker interference detected!
Wikia is a free-to-use site that makes money from advertising. We have a modified experience for viewers using ad blockers

Wikia is not accessible if you've made further modifications. Remove the custom ad blocker rule(s) and the page will load as expected.