A personal tunnel is a mine where people can mine privacy, but there will be zombies and zwambies. This is useful when you are trying to mine more ores.
Personal Tunnel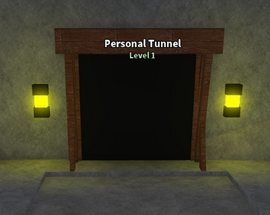 A personal underground tunnel that lets you mine in privacy.
1 LEVEL
Overview
Edit
The Personal Tunnel, when unlocked with 300 uC, gives access to a 3x3 mine to (most of the time) mine without other players' intervention. You can still encounter players inside though, see Bugs and Glitches for this.
Many players think it does not work as the upgrade hitbox of the personal tunnel blocks the area you can mine, but you need to use first person to mine it.
Contrary to what you might think, you do not enter through the black doorway, but mine in the 3x3 area below.
There are still zombies in the caves.
A lot of people have been saving up for the Personal Tunnel.
| Level | Upgrade Cost | Effect |
| --- | --- | --- |
| In Ruins | - | - |
| 1 | 300 | The Personal Tunnel can now be entered. The surface is 3x3 vs. the 26x26 surface of the public mine. |